The Clan Galbraith Association (CGA) was formed in January, 1980 at the request of the Council of Scottish Clan Associations. Our goal is to rekindle the Galbraith Clan spirit and closeness among our members, to assist and encourage genealogical research pertaining to the Galbraith family, and to collect, collate and store Galbraith history and genealogical data so that it is readily available to our families and descendants. We also strive to further the preservation of our Scottish traditions, art, music, and culture.
Membership in CGA is open to those persons related by blood or marriage to the Galbraith Clan, or who can establish a reasonable presumption of direct descent from an ancestor meeting the name requirement. This shall include the surnames: Calbreath, Colbath, Colbreath, Galberth, Galbreath, Galbreth, Gilbraith, Gilbreath, Gilbreth, Gilreath, Kilbreath, Kilbreth, Kulbeth, or any of the other spelling variants of the Galbraith surname. CGA is non-sectarian, non-political, and non-profit.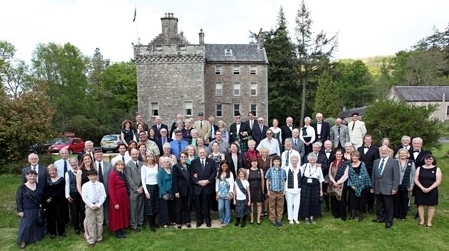 The photo at left shows the 77 members of ClanGalbraith Association who attended the bi-annual Gathering in 2012, held in Fintry, Stirlingshire, Scotland. Culcreuch Castle, the ancestral home of the Galbraith clan (circa 1260 AD), is visible in the background. In 2014 we were at Charleston SC and 2016 is planned for Vancouver BC.